Order custom parking permit tags with wording and/or numbering to suit your situation. You can request notice of parking violations, markers for illegal parking, whatever you need!
Hydraulic Post Straightener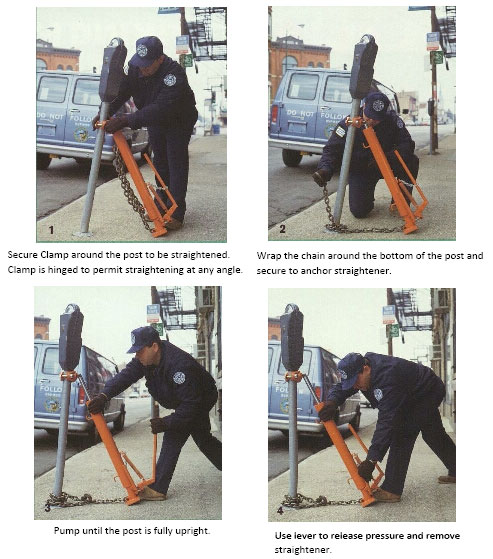 One man operation allows you to save poles you would otherwise have to cut down and replace. They pay for themselves in weeks!
Available for both 2" and 2.5" posts.
2" Model QH-525 List price: $668.00
2 1/2" Model QH-550 List price: $1,188.00
Call for shipping estimate.
Pedestrian Crossing Signs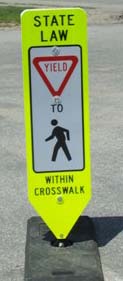 Available in full and half panel sizes
Spring loaded
Highly visible
Fixed and portable bases are available
Custom text available

Durable pre-cut markings have pressure-sensitive adhesive for quick application.
Ten minute installation time
Four Year Warranty
30" X 36" pre-glued
Better visibility than paint
Rubber surface resists oil
Matching lane tape available
Rhino Vehicle Immobilizer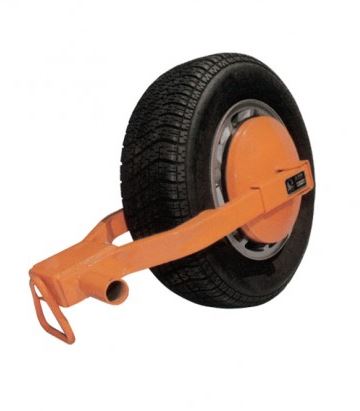 The H-12, our most popular model fits USA & foreign automobiles, light trucks and trailers.
One Piece construction*Please call for freight quote
*Discounts available for combined orders. Please call for details 800-221-6236.
30 second install time
In Production Since 1958
Repair service offered
MADE IN THE USA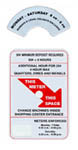 Let your parking public know:
Who can park.
What are the rates to park.
Where to park.
When can they park.
How long they can park.
We manufacture high durability labels for meter housing, posts and post covers. We use only the best UV-Resistant inks, so your labels will stay looking great longer! Our labels are customizable to meet your exact needs. You can choose the text, color, size, shape and materials. All of our labels are available in destructible or non-destructible material, with the destructible variety being vandal resistant (destructible material can only be torn-off in the smallest of shreds—it would literally take hours to tear off a portion of label as small as 2x2"!).
Victorian Sleeves and Bases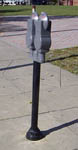 Old Is New! You can bring the Victorian look to your downtown or waterfront rehab project in virtually any color you choose. The old world appeal of these products is timeless and remind us all of a simpler, slower time.